SAY BYE BYE TO METAL WIRES AND HI TO CLEAR ALIGNERS
A permanent solution!  For your teeth problems which can affect your confidence such as  spacing between teeth, proclination of teeth, misalignment of teeth, Crowding.. whatever it is……………
Here we are with most advanced technology in orthodontics giving you a better aesthetics' called clear aligners or invisalign……
WHAT IS CLEAR ALIGNER?
Clear aligners are an efficient alternative to traditional dental braces for patients who want to straighten their teeth without other people understanding that they are undergoing orthodontic treatment. They are made of a soft, flexible thermoplastic material, created exclusively for orthodontic treatment.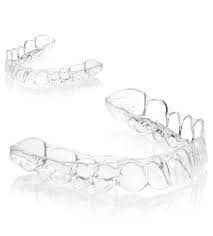 INITIAL STEPS INVOLVED IN OPTING FOR CLEAR ALIGNER TREATMENT
See your dentist to decide whether you can go for clear aligners.
Get your orthodontic records such as Intraoral & Extra oral Photographs, Orthopantomogram, Lateral Cephalogram.
Using 3D computer imaging technology the treatment plan is formulated and a series of clear aligners are customized for you.
BENEFITS OF CLEAR ALIGNERS
Invisible – Clear Aligners are virtually invisible.No one will notice that you are undergoing treatment.
Allergic Free – No allergic reactions inside the mouth such as mouth ulcers.
Comfort Ensured – Most comfortable and easily removable.
No diet restrictions
Hygienic – It can be taken out easily to permit brushing and flossing, so good oral hygiene can be maintained.
Precise Planning – Final result can be visualized through 3D images before treatment begins.
Cost effective – Time-saving correction of misaligned teeth.
German Product – Made out of German material involving German Technology.
Pain-free treatment