We Smile Kochi Dental care located at Palarivattom & Kadavanthra provide specialist for Periodontics. Periodontics is a dental specialty that involves the prevention, diagnosis and treatment of diseases of the supporting and surrounding tissues of the teeth or their substitutes and the maintenance of the health, function and esthetics of these structures and tissues.
Gingival flap surgery is a type of gum procedure. The gums are separated from the teeth and folded back temporarily. This allows a dentist to reach the root of the tooth and the bone.
Gingival flap surgery is used to treat gum disease (periodontitis). It may be recommended for people with moderate or advanced periodontitis. Usually, a treatment that doesn't involve surgery is done first. This is called scaling and root planing. If this treatment does not eliminate the gum infection, gingival flap surgery may be used. It also may be done along with another procedure known as osseous (bone) surgery
Gingivectomy and Gingivoplasty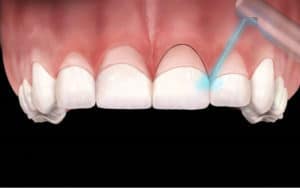 We Smile Kochi Dental care located at Palarivattom & Kadavanthra provides specialist for Periodontics. Gingivectomy was developed to treat periodontal disease. Today, it is more commonly used to remove overgrown gum tissue and improve the appearance of gums. Gum tissue may need to be removed for two reasons
Gaps (pockets) have formed between the teeth and gums. This can trap bits of food, harbor colonies of bacteria, and make it difficult to keep the area clean. If the pockets involve only soft tissue, they can be removed by a gingivectomy.
There is too much gum tissue around the teeth. Some people don't like how this looks and want to have it removed. It also can make teeth and gums hard to keep clean. In severe cases, this condition can interfere with chewing and speech. Excess growth of gum tissue can be caused by certain medicines. Sometimes there is no apparent cause.
Gingivoplasty is done to change the shape of the gums when they have an unusual shape or when they have not formed normally. The causes can include a person's genes, disease or trauma. Gingivoplasty reshapes the gums to make them look more natural. It often is done alone, but can be done during or after a gingivectomy. Gingivoplasty also can be done along with a gum graft. This type of surgery adds tissue to the gum line.
Crown lengthening is a surgical procedure performed by a dentist to expose a greater amount of tooth structure for the purpose of subsequently restoring the tooth prosthetically.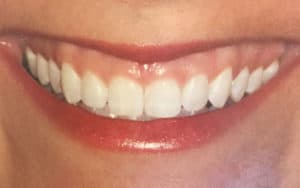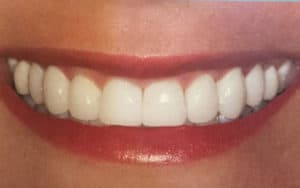 A frenectomy (also known as a frenulectomy, frenulotomy or frenotomy) is the removal of a frenulum, a small fold of tissue that prevents an organ in the body from moving too far. It can refer to frenula in several places on the human body. It is related to frenuloplasty, a surgical alteration in a frenulum.