1. BRUSH PROPERLY
Doing a poor job of brushing your teeth is almost as bad as not brushing at all. Take your time, moving the toothbrush in gentle, circular motions to remove plaque.
2. BRUSH TWICE DAILY
Many of us continue to neglect to brush our teeth at night. But brushing before bed gets rid of the germs and plaque that accumulate throughout the day.
3. DON'T NEGLECT YOUR TONGUE
Plaque can also build up on your tongue. Not only can this lead to other oral health problems. Gently brush your tongue every time you brush your teeth.
4. USE A FLUORIDE TOOTHPASTE
There are more important elements to look for than whitening power and flavors. No matter which version you choose, make sure it contains fluoride.
5. FLOSSING YOUR TEETH IS ALSO IMPORTANT
Many who brush regularly neglect to floss. It's really a way to stimulate the gums, reduce plaque, and help lower inflammation in the area.
6. CONSIDER MOUTHWASH
Ask your dentist for specific mouthwash recommendations.
7. DRINK MORE WATER
Water continues to be the best beverage for your overall health – including oral health.
8. EAT CRUNCHY FRUITS AND VEGETABLES
Ready –to-eat foods are convenient, but perhaps not so much when it comes to your teeth. Eating fresh, crunchy produce not only contains more healthy fiber, but it's also the best choice for your teeth.
9. LIMIT SUGARY AND ACIDIC FOODS
Ultimately, sugar converts into acid in the mouth, which can then erode the enamel of your teeth. These acids are what lead to cavities.
10. SEE YOUR DENTIST AT LEAST TWICE A YEAR
You should see your dentist for cleanings and checkups twice a year. Not only can a dentist remove calculus and look for cavities, but they will also be able to spot potential issues and offer treatment solutions.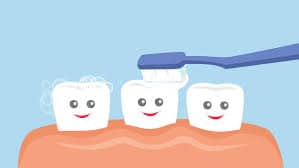 Dental Hygiene